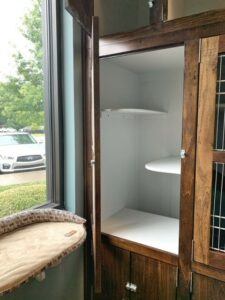 Felines are boarded in a multi-level cat condo. We will take care of your animal based on your specifications. Our cat condos have separate litter box rooms to keep their sleeping area comfortable and clean. Litter boxes are kept below, cleaned and disinfected throughout the day. Our cat boarding area is separated from the canine with pheromone-controlled room to aid a stress-free environment.

Canines are walked and enjoy play time in our fenced in back yard. They are always supervised by a boarding attendant while outside. Your pet is taken outside at least 3 times daily. Each suite is climate controlled, has an outside window, TV, pet music, sound absorbing panels and an air exchange system. The runs are 4ft by 6ft for each pet. Their suites are regularly cleaned and disinfected.
HOURS OF OPERATION
Mon-Fri 7:00 AM – 5:30 PM
Sat 8:00 AM – 1:00 PM
Sunday CLOSED – No boarding pick-up
BOARDING PRICES
$68 per night for dogs. An additional $45 will be charged on the day of a holiday (New Year's Day, Memorial Day, 4th of July, Labor Day, Thanksgiving and Christmas Day)
$30 for each cat per night
All pets must be seen or have been seen by one of our veterinarians once a year for a wellness exam.
All pets must be dropped off or picked up during regular office hours. Boarding reservations are required. During the holiday times, we do recommend that you call at least 2 weeks in advance to reserve your stay.
We provide food for pets during their stay with us at no additional cost. We do ask if your pet has any food allergy or sensitive stomach to bring your own pet's regular food. The food we provide is Purina EN kennel dry food.
If your pet is on any medication or has any special needs, please let our staff know. We would be happy to administer medication during your pet's boarding stay.
If you would like updates during your pets boarding stay, you may call our office for an update or you may download our app (at no additional cost). Through our app you will receive updates and pictures. You will also become a part of our Loyalty program; with this program you will collect paw prints and can use those for future rewards.
Animals are required to be current on the following vaccinations:
Canines will be required to have Rabies, DAPP, Lepto, Bordetella, Influenza, and Fecal within the last 6 months.
Felines will need Rabies, Feline Distemper (FVRCP), FeLV, and Fecal within the last 6 months..
We prefer that all preventative care be completed at least 2 weeks prior to the boarding reservation. All animals must be flea and tick free, if fleas/ticks or other (intestinal) parasites are noted, your pet(s) will be treated at your cost. If you have vaccine records from a previous veterinary facility, please email the records to stonesriverreception@gmail.com.